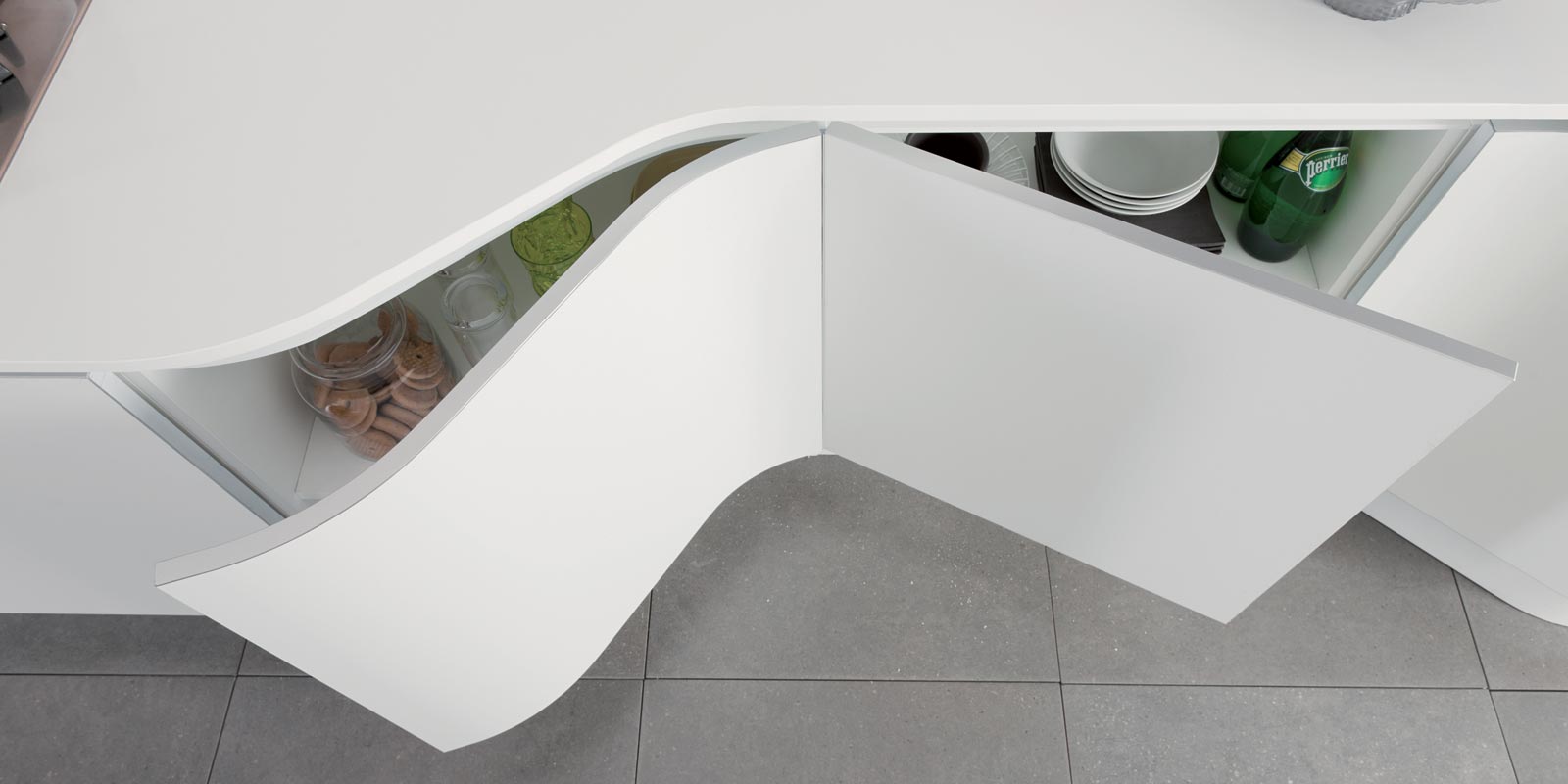 LamcoHPL Form
LamcoHPL Form is comprised of several sheets of kraft paper impregnated with phenolic resins, plus a sheet of decorative paper and a cellulose overlay impregnated with special melamine resins.
Its specific feature is that it can be postformed – into convex or concave curved forms – using heat (temperature from 150°C to 180°C, according to the technique used and the curve radius required).
This characteristic has notably increased the potential uses of LamcoHPL Form, making it an ideal design material for creating rounded edges on unit doors, shelves, side panels, work tops, counters and any other type of furniture part or unit, where it also reduces the hazard of sharp edges and corners.
On demand, it can be supplied complete with a special protective film that is able to withstand temperatures of up to 240°C – for removal once the curving operation is completed.
Postforming
There are many curving systems that can be used for postforming and they require special equipment, which can either be static or continuous. For example, in the case of static bending machines, which are mostly used in small-scale business production, the laminate is bent over a heated tube, the diameter of which is proportionate to the required bending radius, and then glued to the shaped backing.
For small production amounts or when making complex parts, the best types of machine are static contact models: the laminate is glued to the flat area of the shaped support only, and then fed through the machine; a specially heated bar follows the profile, ironing the laminate over it before gluing it into place.
Finally, the most widespread curving system used for large production batches involves continuous machines. In this case, the laminate is glued to the flat area of the shaped panel or worktop and once inside the machine, the material is heated by radiance from electric heating elements, passing under heat lamps before it is bent and glued to the panel or top by a series of pressure rollers.